Central Dublin Traffic Plan (1973)
This is chapter 3.
Contents:
Chapter 3: City Centre
---
The Dublin Transportation Study from chapter 2 had created a network of new, major routes to get traffic in and out the city.
What it had totally ignored was the city centre, where the study simply assumed that the Dublin Corporation's Inner Tangent from chapter 1 would continue as had been proposed.
The Central Dublin Traffic Plan, prepared by R. Travers Morgan, was published in 1973 and commissioned by Dublin Corporation to establish what changes were needed in Dublin City Centre to allow the historic road network to integrate with the new motorways.
Taking A Tangent
Mostly, this study was about two parts of their faltering Inner Tangent project. The Corporation believed there were two contentious sections: the entire eastern half, from Parnell Square to St Stephen's Green, and the western section at The Liberties (Kevin Street to Bridgefoot Street). When you look at that on a map, there wasn't an awful lot left.
The study agreed with the Corporation that it wasn't worth having the eastern section tip-toe its way around Georgian Dublin when you were going to have the Liffey Crossing motorway do the same job along the same corridor.
The remaining three sides of the Inner Tangent were broken up into sections, and analysed separately.
Southern Tangent
A new one way system was created at St Stephen's Green. Starting from Leeson Street (N11) at the canal, it would use Adelaide Road, and then a new road that would be built down the west side of Camden Street. The return would be via St Stephen's Green and Leeson Street.
This would be part of a dense network of one way restrictions that would provide numerous routes for local traffic to reach different streets. Principally, it involved St Stephen's Green operating in an anti-clockwise direction.
Cuffe Street and Kevin Street would be widened to become dual carriageways (D2). Instead of widening and extending The Coombe, which had proven extremely unpopular, a new road would be built to the south. This is now called St Luke's Avenue.
This system would allow the southern section to not just form part of a ring, but to help traffic get in and out quickly using Leeson Street or Cork Street.
Western Tangent
The western section was the one with all the problems, as it had been primarily routed through The Liberties which was in need of investment but, understandably, people who lived there didn't want it turned into a ring road.
The new proposal formed by far the most memorable outcome of the whole study.
Starting at Clanbrassil Street (the N81), a one way system would be created by building a new road for inbound traffic to the west. This would be routed along the street called Blackpitts, which would have been upgraded and straightened.
The road would meet the Southern Tangent at Kevin Street, where a large diamond interchange would be built, with the Western Tangent diving underneath in an underpass.
Diamond interchanges are generally known for being small, and they are, but in the context of a city centre it would still have been massive. Pedestrian subways would have been provided. St Patrick's Cathedral would have overlooked the new flyover.
From here, the road would run fast with three lanes (D3) and a 60kph design speed. It would head west, roughly following John Dillon Street and Lamb Alley, but dwarfing the laneway that's there now.
The road would pass underneath High Street, and then cross the River Liffey at Ushers Quay. Here, another diamond interchange would straddle the river, requiring three new bridges: two at river level and one to fly over them all.
Immediately afterwards the Western Tangent would experience a compact Y-shaped interchange, immediately east of Smithfield Square. Prussia Street would emerge from the middle, forming a route out of the city via the N3.
Travelling northbound, the Western Tangent would take a long underpass, diving under the whole complex. Long footbridges would carry residents acros the road. The Western Tangent would then come to a halt at a set of traffic lights at a widened Constitution Hill, which would form a route out of the city via the N2 and the motorway junction in Phibsborough.
The Western Tangent was a high capacity road, because the study felt that this was necessary. It believed that a road like this would keep all the through traffic out of the city centre.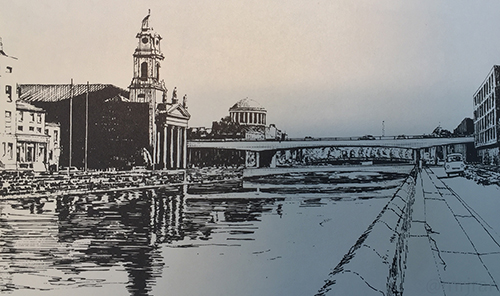 A sketch of the Western Tangent interchange planned for Ushers Quay.
While engineers believed they had chosen the best route available, and at the time much of this land was in a poor state, they still knew it was destructive. They suggested the Western Tangent be sold to residents as a regeneration scheme, and highlighted all the plots of land that could be developed afterwards.
As it was a totally new route, several alternative routes were drawn up and abandoned. One of these had a small tunnel from Patrick Street (the Western Tangent) to Cork Street, providing a fast route out of town.
Northern Tangent
In comparison with the Western Tangent, the Northern Tangent was much more chilled. But it had a few tricks of its own.
Starting from North King Street, the road would head in a straight line to Parnell Street, where traffic would be able to turn into Capel Street or Bolton Street. A few more side turnings would be available, including an inbound route via King's Inns Street.
This is arguably the closest any part of the Inner Tangent gets to the city centre. Parnell Street is a busy shopping street, with several well-regarded districts branching off it.
At Parnell Square, there was a challenge. The listed Rotunda Hospital came too close to the road, making it too narrow.
To get round this, a two-lane tunnel would have been built. Outbound traffic would have the choice of either heading up the ramp and around the square, or entering a tunnel that would go under the hospital and come out the other side. Inbound traffic would use the surface roads, passing through the traffic lights at O'Connell Street.
The tunnel itself wouldn't be a huge engineering feat, but once you factor in the ramps needed to get underground, you'd have about 500 metres of cutting - quite a lot for a shopping street!
After Parnell Square, the study rejected the option of using Cathal Brugha Street, arguing that losing the charm of the Parnell Street eastern district would be less disruptive overall. After the junction with Gardiner Street, the Northern Tangent would continue along Summerhill, gaining a local access road.
The dual carriageway (D2) would have been extended to Ballybough Road, where traffic could join the Airport Motorway to head north.
Getting Started
The remaining three sides of the Inner Tangent would have been dual carriageway throughout, leading to widescale demolition but also providing the opportunity to re-shape the city.
The study also included a list of "quick wins". These were parts of the Inner Tangent which would run through land that was already vacant and in a poor state, and therefore were ready to be built on with little negotiation required. These were:
If you look at these on the map, you will see that they almost all exist as inner city dual carriageways. In addition, there was a list of "quick wins", which were parts of the Inner Tangent where the land wasn't already available but the benefits of building them were great:
Kevin Street (eastern end - linking the first two above)
St Luke's Avenue (eastern half - linking it to Kevin Street above)
The new road between North King Street and Parnell Street
Two of those weren't built. As a result, today we have the strange situation where the Parnell Street dual carriageway totally gives up before it gets to North King Street, and likewise Cuffe Street doesn't last very long.
We will explore why things went so wrong so quickly in chapter 4. But first, let's look at the rest of the Central Dublin Plan.
More Than Just Roads
The Inner Tangent - specifically the Western Tangent - was the main aspect of the Central Dublin Traffic Plan, and was what it would be known for. It really believed that a good flow of roads in and out the city would keep the central section flowing well.
There was more to it than just that, though. In fact, despite being published in 1973 and obsessed with keeping traffic moving, the recommendations of the study were rather contemporary.
It supported the pedestrianisation of Grafton Street, Henry Street, Earl Street and Mary Street - all being trialled at the time - and wanted Custom House Quay and half of O'Connell Street to be added to the list. Specifically, O'Connell Street would have been made much narrower outside the GPO, to allow a pedestrian plaza to be created there.
Winetavern Street (the road under Christ Church Cathedral arch) would be closed and replaced by a new street to the west, with landscaping opportunities there.
It wanted to invest heavily in bus services, with a network of dedicated bus-only roads running around Tallaght, Lucan and along the old railway lines. Bus stations would be built at Temple Bar and Ormond Quay (now Millennium Walkway). The old Camden Street would be used by buses only, though the idea was that with little traffic it would be safe for shoppers to walk around. Nassau Street and Aungier Street would be buses only, too.
Consideration was given to an underground rail link, connecting the existing lines at Lansdowne Road and Phibsborough. Public transport was described as a "vital" part of the system.
The study strongly encouraged that on-street parking be removed and strictly enforced where available, though this was mainly so that all of the available roadspace could be dedicated to moving traffic. New car parks would be built in outer areas to reduce the amount of traffic heading within the Inner Tangent.
An extensive one way system would have been created, with seemingly every single major road in the city centre running in one direction only. It is difficult to get a practical sense of what this would have been like when it is only optimistic lines on a map. While there would be traffic lights everywhere, the dominance of so many free-flowing roads would not make life easy to anybody walking or cycling around.
One assumes that the Central Dublin Traffic Plan would have successfully raised traffic capacity and speeds across the city but that, if that capacity was reached, there would be nothing that could be done about it. In addition, these streets would have been lined with replacement buildings designed in the 1980s, totally changing the look of the city. Many of them would be deliberately designed to have their fronts facing away from the road, creating a better experience for residents but a depressing view for drivers.
None of those reasons were why it wasn't built, though...
---