Hello there
My name is Johnathan Randall, because I was told never to introduce myself with a nickname.
I am a travel historian. I study and write about how our need to get around continues to shape our world through roads, railways, airports and whole new towns. I love the non-places we pass through along a journey and the effort that goes into catering for people who just want to get a move on.
I am much happier speaking and writing about these things than I was when I was working in the offices of several transport organisations. I will occasionally share what I learned during those times. More generally, my travel thoughts and/or research have been used by the likes of Truck & Driver, BBC local radio, Daily Express, The Guardian, The Independent, Mail Online and Daily Mirror (detail). I am a radio producer experienced with entertainment and talk shows.
While I do occasionally share some of this work on here, it's best to contact me for the full details.
The rest of this page is a much more generic blog, covering my love for media, travel, amusing signs, post codes and lists. It is largely irreverent and mostly outdated.
There are billions of websites on the internet. Thank you for clicking on my one.
---
This is a bit too serious, and it's because I'm personally affected.
Twitter wants big businesses to be using their platform, but to thank them, Twitter is now making some users pass a verification test that is impossible.
As a result innocent users are having their accounts suspended, and when they turn to Twitter for help, all they get is an automated promise that it will get looked in to. No actual assistance, or explanation, is offered.
Here's how I found out about it: one day, I was using the Twitter app and it interrupted me to say I needed to verify my phone number. It did this for all of my business accounts.
October 2020
---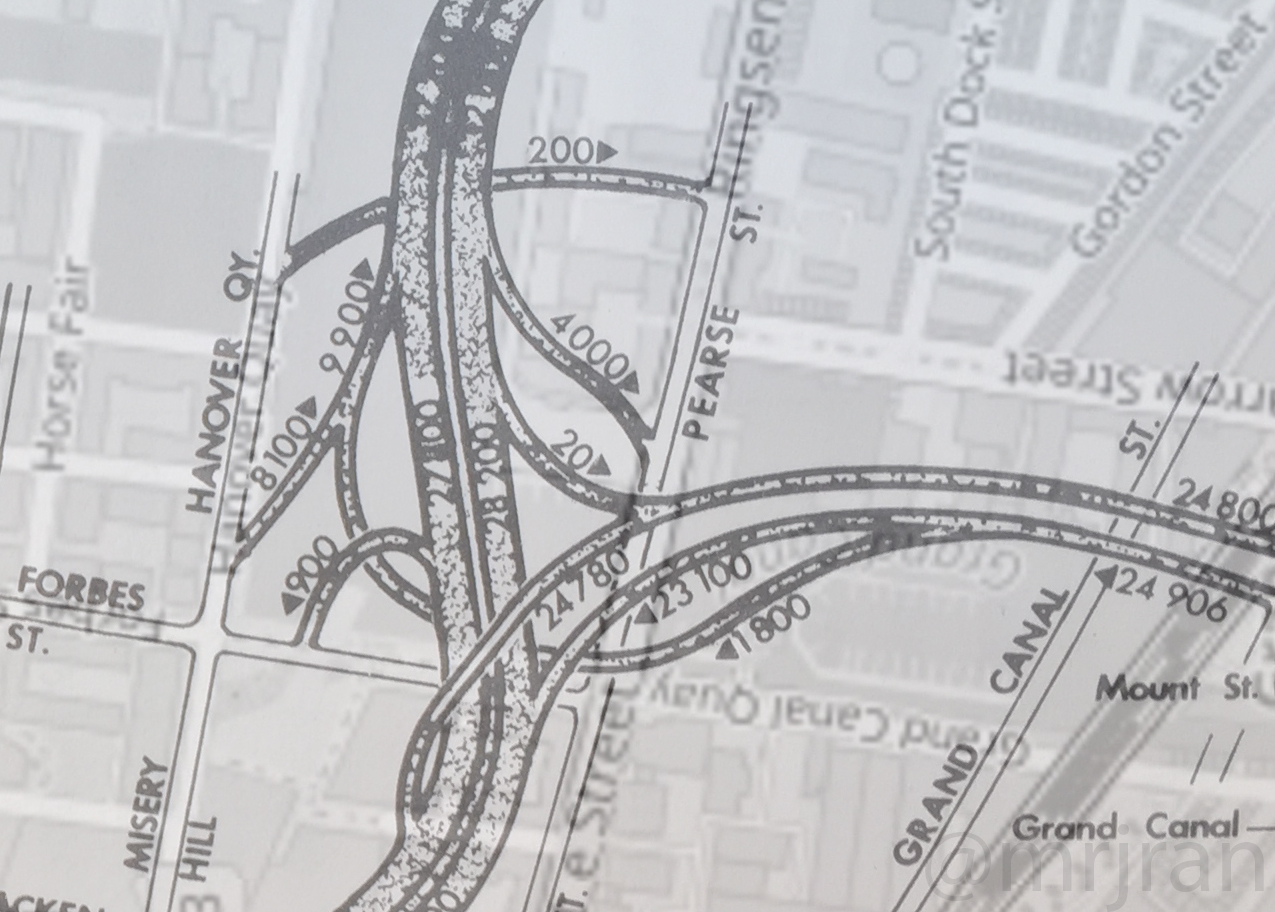 All over the developed world, cities went through a phase where they fell in love - and then usually fell out of love - with the motor car.
This phase was usually an exciting time of optimism and aspiration, and a time where places wanted to change their face beyond all recognition. It rarely worked out well.
Dublin has been shaped by many historic events but one that has had a big impact on the appearance of the city is its failed aspiration to embrace the motoring era.
This is the story of Dublin's three transport plans; how they could have created a very different city; and how you can still see evidence of them today.
October 2020
---
1981. That's the earliest record I have of somebody being charged for parking for too long at a service station.
The reason that's an important date is that, fast forward to 2020, and we see more complaints from people who were charged for overstaying than about anything else that they do.
These people are often outraged, and try to call for a boycott, not realising that almost every service station in the country is doing this, and has been for 40 years. You'd need quite a boycott.
September 2020
---
It is really quite incredible that the debate over whether a service station should be built on Walford Hall Farm near Solihull goes back to 1969.
Strictly speaking it has only been continuously proposed since 1992, but that's still almost 30 years.
I'm thinking about this because this week it was announced that the decision on the plans has been pushed back another 18 months.
The problem is there are many reasons to argue against it. Green fields are something to treasure. this is a busy road which must be modified with care and there are arguments in favour of other locations.
There is also a big reason to argue in favour of it - it's needed. We're talking about a country with a large gap between existing facilities, and a severe shortage of HGV parking places.
As a historian, I am natrually programmed to argue against new developments. The status quo is what I find interesting. But there are places where the status quo is clearly not working, and this is one of them.
September 2020
---
I appreciate it's not fashionable to be positive on the internet, and it's perhaps not something I'm used to, but I genuinely feel that praise is due for the way many transport operators have adapted to COVID-19.
That's not to undermine the challenges that customers have faced - lorry drivers in particular have, at times received an especially raw deal - but its only fair to acknowledge the amount of work that has got us to where we are.
On the motorways, all of the service area providers are used to dealing with uncertain conditions. They put up with accidents, roadworks, snow and Bank Holidays. But none of these begin to compare with the disruption and confusion felt in 2020.
August 2020
---
As a consumer, I should probably say it's good how, if people don't like the old Bridgwater, they can visit the new one. That's competition.
There will always be the traditionalist in me - the historian who finds the old ways of doing things more interesting - who says that can't be right. What if every junction turned into a load of service stations fighting over each other for trade?
August 2020
---
For 45 years, various governments have been trying to bring motorway fuel prices under control.
The thorny subject goes against government policy, which has always been to avoid regulating the industry (and over time they have become increasingly hands-off). But motorway fuel pricing has always been a cause for complaint, and politicians can't help but get involved when they think some PR is available.
For many years their solution was to require service stations to display a sample fuel price on the motorway signs. The problem was somebody had to update it, and with 1980s technology that meant asking a junior member of staff to walk half a mile down the motorway with a stepladder and some giant numbers.
Today you'd just say the job could be done with an electronic screen, but even as recently as 2005 it was difficult to find a source of power for those. And the operators had wriggled out of the idea by then.
August 2020
---
If we are to buy into the stupid "Grafton Quarter" vision for a second, we need an area that is actually pleasant to visit. Streets like South William Street would be fine if there was a ratio of one car to 10 pedestrians. That's how shared spaces work.
Problem is the street is usually full of pedestrians and full of cars. This makes it awfully crowded, and frankly unpleasant.
The good news is it only took a global pandemic for Dublin City Council to consider pedestrianising the area, starting with a series of trials.
July 2020
---
The hospitality sector has really struggled during 2020. I commend the government for doing something about it.
I also commend all the businesses - including giants like KFC, and motorway service area provider Moto, who have agreed to turn their tax cuts into cheaper prices, rather than taking the additional cash.
In doing that, the system becomes rather unfair. What about all the smaller restaurants who need that cash just to pay their bills?
July 2020
---
I read with interest that the Greater Exeter Strategic Plan is expected to propose closing both Exeter services and Cullompton services, and replacing them both with one new site.
For all too long now Britain's planners have treated motorway service areas like haunted monuments we daren't touch in case it unleashes a curse. In truth the greatest curse of all is a roundabout that has been covered in traffic lights and crazy lane markings.
July 2020