GoMo Review: Is GoMo Any Good?
GoMo has launched in Ireland, with some incredibly cheap rates: the first 100,000 customers are promised unlimited calls, texts and data (an incredible 80gb fair use) for life.
I hate launch events. They are always full of self-important arse-lickers speaking like the world revolves around them. I wanted to avoid the ludicrous-sounding GoMo. But as it happens I was genuinely in the market for a cheap, flexible SIM only phone operator, so I thought I'd give it a go.
What you need to know about GoMo
GoMo Ireland uses their Eir network, and customer service is provided by Eir's Limerick call centre. As far as the customer is concerned, it is Eir.
With its bright colour scheme, weird name, word-of-mouth based launch event and wacky photoshoots, GoMo is basically just Eir for millennials. The Eir brand is considered boring, tied to an old Ireland and a preserve of the elderly. GoMo is where they think it's at now.
That will be why GoMo ends every message with "That's it!". They obviously think that's the catchphrase that all the millennials are using.
What is GoMo like?
This brings me to my main reservation about GoMo. Eir's customer service has a terrible reputation (all communication brands don't, but Eir seems to get the most complaints). If the main Eir can be that bad at customer service, what on earth will GoMo (which is basically Budget Eir - a much better sounding name!) be like?
A quick look on Twitter reveals, just two weeks after GoMo launched, there are hundreds of complaints about customer service. GoMo promises that your email will be responded to within 24 hours: this deadline is usually missed; tweets normally don't get resolved and live chat can go unanswered. There is no telephone service; you can't speak to anyone.
A word of caution here: mobile phone providers always get hundreds of complaints. Most customers are probably happy. Also, as it's a brand new service, it might take time for everything to settle in.
My experience was fine, for a while. The product is only days old: you'd expect it to be working well, and it did. GoMo was incredibly easy to join.
They have clearly considered the customer all the way through the purchasing process. The order form is very easy to follow, the price plan is extremely simple to understand, and the small print appears to be minimal.
It is amazing how easy it is becoming to switch networks, with any operator. With GoMo I was impressed that I could schedule exactly when my number would be ported across (during office hours only - why is that still a thing?). Once you've scheduled it, you can easily change the scheduled time online.
I scheduled my phone number transfer, and then when the SIM arrived in the post I decided to re-schedule it for 10 minutes in the future. 30 minutes later everything was done. Excellent!
Is GoMo any good?
The service is exactly what you would get from Eir. I'm in Dublin City and I'm getting all five bars (PSA: the bars don't mean anything), and my internet is about 8mbps.
Seeing as their unlimited data allows you to use an impressive 80gb a month before the speed is limited (most others will say 40), if you can stand the slower 4G speeds, joining GoMo and tethering your laptop by using your phone as a wifi hotspot could be a much better option than paying another company for broadband. I think GoMo know this.
8mbps is perfectly fast enough for one person to use the internet. There is a slightly delay when streaming videos, but other than this you won't really notice it.
I appreciate the real test will come from people living outside Dublin City. Unfortunately I wasn't prepared to move to Kerry for the purposes of a product review. However, it is exactly what you will find on Eir. You can check your estimated coverage online.
What about the unexpected charges?
Most of this page was written within days of GoMo launching. The real shock came when I received my first bill, which was due after two weeks.
All bills are sent out at the start of the month. Several people reported being overcharged, but nobody seems to be able to beat me.
For my €9.99 a month package, GoMo have charged me... €202.01!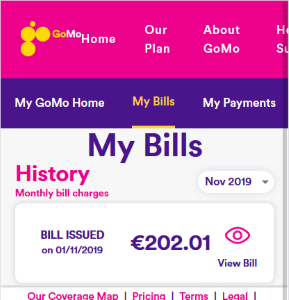 My GoMo bill.
Even though their bill says I was in Ireland at the time, I've worked out what happened. GoMo have charged me a horrendous rate for sending texts and using data while I was in the EU for a few days. This is wrong because:
GoMo advertise free texts and 10 GB free roaming when you're in the EU (I used 147 MB).

They are required to offer that under EU law.

They sent me a text which confirmed this.

They also said they would warn me before I get charged, which they did not.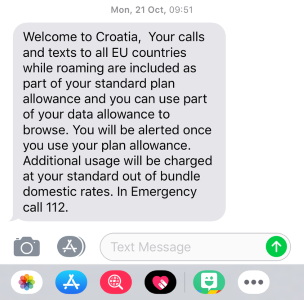 GoMo did not stick to the conditions that they text me.
At the time of writing, I'm going to give them the benefit of the doubt that this was a simple mistake. It should never have happened. In a sensible world, their system should have flagged up that charging a customer €202 after two weeks on an unlimited price plan is virtually impossible. Their bill breaks down the charges and it is very clearly in breach of their contract.


The itemised bill is clearly in breach of their contract.
Their system is set up to automatically take the money from me. They are in for a shock because I don't have it.
So what happened?
While I appreciate there will be teething issues, I wasn't best pleased at having to raise this issue.
I was even more displeased that it took five days for me to receive any meaningful response from them, despite GoMo promising a 24 hour turnaround.
But to be fair, GoMo did resolve the issue before it was too late. They accepted the bill was wrong and reset it. They apologised for the error.
As a resolution, I can't ask for much more.
Will GoMo stay around for long?
I am a little sceptical of GoMo's promise of offering "unlimited everything for life". How can they be so sure?
It doesn't really matter, because with their 30-day contract and with so many rival companies you can simply just switch if GoMo ever renege on their commitments.
It remains to be seen how the other mobile operators will react to this. Three and Vodafone, and to a lesser extent Virgin and Sky, have been focussing on how powerful their internet is. GoMo can't compete with that.
But GoMo have launched a new war over how cheap their data is. This will matter to a lot of customers.
Maybe the likes of Tesco and Three will respond with an even cheaper offer. I wouldn't wait for it - you can always just switch again if they do.
Maybe GoMo will secretly put their prices right up once the first 100,000 people will join, meaning they will then be like any other operator. They claim that their pricing plan is "yet to be confirmed" - though maybe it's just that they don't want to tell you. We'll have to wait and see, but they'd still look like a very good operator.
The real catch is that this is only a 4G contract. GoMo was launched just as other operators starting promoting 5G. GoMo is offering you unlimited 4G for life, but eventually that'll be pretty much obsolete technology. I doubt GoMo is going to ever give you a 5G offer this good (at least not until the world has moved on from 5G).
But so what? You're not tied to a long contract with GoMo, so whenever you decide that you need 5G, you can simply leave them and move on. I suspect that's what they want.
Until then, if price is your main concern, GoMo looks like an excellent option.