Hello there
My name is Johnathan Randall, because I was told never to introduce myself with a nickname.
I am a travel historian. I study and write about how our need to get around continues to shape our world through roads, railways, airports and whole new towns. I love the non-places we pass through along a journey and the effort that goes into catering for people who just want to get a move on.
I am much happier speaking and writing about these things than I was when I was working in the offices of several transport organisations. I will occasionally share what I learned during those times. More generally, my travel thoughts and/or research have been used by the likes of Truck & Driver, BBC local radio, Daily Express, The Guardian, The Independent, Mail Online and Daily Mirror (detail). I am a radio producer experienced with entertainment and talk shows.
While I do occasionally share some of this work on here, it's best to contact me for the full details.
The rest of this page is a much more generic blog, covering my love for media, travel, amusing signs, post codes and lists. It is largely irreverent and mostly outdated.
There are billions of websites on the internet. Thank you for clicking on my one.
---
For 45 years, various governments have been trying to bring motorway fuel prices under control.
The thorny subject goes against government policy, which has always been to avoid regulating the industry (and over time they have become increasingly hands-off). But motorway fuel pricing has always been a cause for complaint, and politicians can't help but get involved when they think some PR is available.
For many years their solution was to require service stations to display a sample fuel price on the motorway signs. The problem was somebody had to update it, and with 1980s technology that meant asking a junior member of staff to walk half a mile down the motorway with a stepladder and some giant numbers.
Today you'd just say the job could be done with an electronic screen, but even as recently as 2005 it was difficult to find a source of power for those. And the operators had wriggled out of the idea by then.
August 2020
---
If we are to buy into the stupid "Grafton Quarter" vision for a second, we need an area that is actually pleasant to visit. Streets like South William Street would be fine if there was a ratio of one car to 10 pedestrians. That's how shared spaces work.
Problem is the street is usually full of pedestrians and full of cars. This makes it awfully crowded, and frankly unpleasant.
The good news is it only took a global pandemic for Dublin City Council to consider pedestrianising the area, starting with a series of trials.
July 2020
---
The hospitality sector has really struggled during 2020. I commend the government for doing something about it.
I also commend all the businesses - including giants like KFC, and motorway service area provider Moto, who have agreed to turn their tax cuts into cheaper prices, rather than taking the additional cash.
In doing that, the system becomes rather unfair. What about all the smaller restaurants who need that cash just to pay their bills?
July 2020
---
I read with interest that the Greater Exeter Strategic Plan is expected to propose closing both Exeter services and Cullompton services, and replacing them both with one new site.
For all too long now Britain's planners have treated motorway service areas like haunted monuments we daren't touch in case it unleashes a curse. In truth the greatest curse of all is a roundabout that has been covered in traffic lights and crazy lane markings.
July 2020
---
I missed my bus. I was annoyed. When I tried to find out why, I wasn't expecting this discovery.
But what do you do in the early morning, when there are no buses to advertise? Well, Dublin Bus have a solution to that: they make one up.
February 2018
---
Shortly before the remaining assets were sold, I was asked to write about Little Chef. Not knowing about the dark negotiations going on in the background, I wrote this cheery and optimistic article about how the brand could live forever. And it could have done - in the right hands.
The relationship between driving and eating can be traced back to the UK's economic boom of the 1950s. People had more money to spend, they had more time to spare, and they were taking inspiration from American culture and heading out on a roadtrip.
January 2018
---
As an exiled English person, the idea of a bridge between Ireland and Scotland makes me happy. Ireland and Scotland launching an economic partnership to stick two fingers up at England is a heartwarming prospect that would benefit them both. It will never happen.
January 2018
---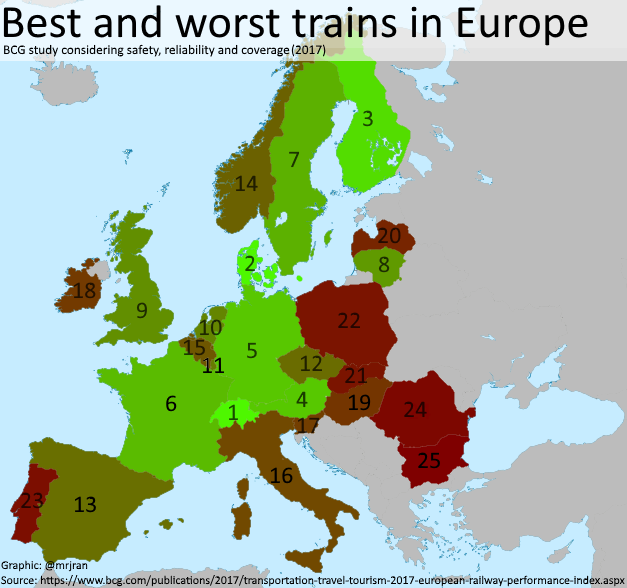 The good people at Boston Consulting have created an index to compare the performance of different country's train services. The only problem is it's not easy to read much into the information, so I've created a series of tables which should help.
Throughout these figures, "spending" has been adjusted for the population of the country. For clarity I should stress that the UK is represented as Great Britain, as trains in Northern Ireland are managed very differently to those on the mainland.
November 2017
---
The UK's railway industry is one of the most backward jobs in the world. They don't take change well. If First Group propose any dramatic changes for staff, you can expect a lot of strikes. I know Southern customers are used to daily strikes, but South West Trains hasn't had a strike for as long as I can remember. Uncertain times for staff means uncertain times for customers.
July 2017
---
In Ireland the issue with transport is very important because Ireland has an obsession with cars. I'm not calling it an "obsession" in a sanctimonious or a negative way: cars are great, if it was practical I'd drive everywhere, however the reality is that areas where people drive are places where the 'have nots' get left behind. And in a country with such large rural areas which can't justify a public transport service, in Ireland the people who rely on public transport are often left a long way behind.
Bus Éireann's issues are more evidence of a political crisis. Sticking with the elderly, when it comes to public transport they tend to use more than they pay. A bus full of people with free passes is, in business terms, money being poured down a train. Our capitalist society does not look out for these people. In the UK, parts of the country with a high proportion of elderly people such as Dorset and Cornwall have seen many companies go bust because there aren't enough paying customers on board.
November 2016