Hello there
There are billions of websites on the internet. Thank you for clicking on my one.
I've had this website for years and I used to use it to collect a load of nonsense about giraffes and a made-up fact about post codes.
The internet has moved on a lot since then, and seeing as I'm not in to data harvesting or Bitcoin scams my website started to feel a bit left out by the whole thing. I have now cleared out the worst of the nonsense, leaving behind a few blog posts and a bit of hope that I will excitedly update it more often.
I veer wildly between late-1990s TV nostalgia, social media pictures of signs which amuse me and occasional serious recollections from when I used to work hard in the travel industry. Keep checking back for a messy concoction of all three, plus a few more travel tales.
---
I like cars, just not there. This is a serious post about the problems with cars, cities and reluctant councils.
July 2019
---
Center Parcs invited 400 influencers and lifestyle bloggers to experience a free weekend at Longford Forest, as well as all the perks of their VIP launch event, on the basis that they would fill social media with smug posts about how amazing it all is. It turned out Twitter users didn't like having to sift through ass-licking smuggery.
I'm not surprised Twitter didn't like it. What has surprised me is that the bloggers - who have been in this game for a long time - have taken offence at the blowback.
The bloggers were merely a tool in Center Parcs's marketing strategy. And here's the deal: marketing is all about speaking directly to your audience. Your audience are allowed to stick their finger up at you if they find your message patronising. It has always been that way. The word "backfired" exists for a reason.
May 2019
---
I love shopping, because I love trying to slide the trolley as far as I can. I have tried many shops and I think IKEA trolleys slide the most, and IKEA ailes are long and quiet enough to get the best result.
Sadly, on the day my ashamed family filmed me, my performance was poor.
June 2019
---
The idea of the show is that these people are presented as if they are just like you - normal people, with normal backgrounds. Anybody can apply. This could have been you. In fact why wasn't it?
The answer is simple, and sometimes you have to spell it out to yourself: these people are not normal people. I know the producers will throw in a token sweet one like the adorable Dr Alex, but never on Love Island do you see somebody who might think twice before getting their body out on camera; somebody who worries about running out of conversation when around strangers; a man who gets intimidated by the idea of being with 'lads'. You never see anyone who really gets panics before a date, or someone who's a tiny bit prudish when bragging about their sex life with someone they've literally just met.
May 2019
---
I remember the first time I saw people use Facebook to help find a vulnerable child who had gone missing near my home town. He was found within a few hours, and the strength of the people power we had just created was quite exciting.
That was in 2012. Since then, it has become very common to see alerts about missing people posted on Facebook and Twitter. Missing children or vulnerable adults tend to travel further, but there are loads of alerts on there if you look up the right accounts.
This is exactly where I have a problem to raise. Across the world there are what, millions maybe, of people who have gone missing and their families are worried about them. I can't retweet all of those alerts.
May 2019
---
Start an episode like this: have Ant & Dec say 'Hi'. Show the judges taking their seats. Have somebody who is OK. Then show a montage of people being silly. Then show a sad clip. Then have that person deliver an amazing performance. Then have an advert break.
Times that by four and you have an episode of Britain's Got Talent. Times that by 13 years - yes 13 years! - and you have the entire run of Britain's Got Talent.
The only thing that has ever changed - other than trialling the different judges at the start - is the fact they now cut to random members of the audience giving their opinions even though you couldn't care less what they think.
April 2019
---
I find it a bit sanctimonious. They write about it like they're a martyr sampling life in 2005 so we don't have to.
Even though I find the idea of giving up social media (and more) really tempting, I hide behind the excuse that I need it for work. I do, but there are ways of dealing with that (the main one being to create an account just for work). No, the truth is I know I'm too addicted to give it up for good. In fact, I'm slightly scared of what life with fewer connections (and I know social media connections are hardly 'real', but they can feel it) might be like.
Recently I found a way to make social media work for me. It's not quite a digital detox, but it is a very big spring clean. And it has made me feel better.
April 2019
---
Despite what it might look like, I'm not trying to tell you this is important. I'm just reporting the facts that happened.
I own a website. I use it to write blog-style posts. Some of them I like, some of them I know lazy but harmless. I move haplessly between the two because I do this for fun, I'm not trying to be the next big thing in the blogosphere and I am happy with a global audience of two.
On the morning of 16 March 2019 I created a page which was definitely the latter. It was a list of tweets about March To Leave which I found funny. There was no editorial, no analysis, just some tweets which I thought deserved a wider audience. I assumed I would delete it in two weeks when everyone had forgotten what a funny thing March To Leave was.
Anyway, while all this was going on, a strange coincidence happened. Let me explain, badly.
March 2019
---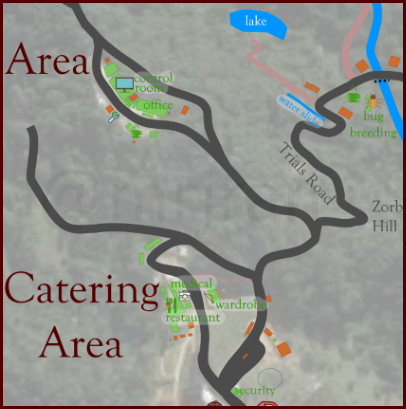 I'm fascinated by how big TV shows are made. I'm interested in the white lies they tell. TV shows have to lie, because the truth is usually so boring.
One show which has been on my radar for a long time is I'm A Celebrity... Get Me Out Of Here! Unlike Love Island or Geordie Shore, everything about I'm A Celebrity was kept top secret. What were they hiding?
After a lot of research, I found out that there are plenty of boring realities left out of what gets shown on I'm A Celebrity. Mostly though, what you don't see is how hard the production team work to keep the contestants nervous.
February 2019
---
A short video I made about my first time performing outside brodcasts at Classic Hits.
November 2018